The Love of My Life | Have We Left Our Mark?
Posted On July 27, 2015
I am on a flight to Chicago, having just returned to Austin yesterday from a week at the beach along the shores of the Gulf in Ft. Morgan, Alabama. As my son and I drove west, my daughters, their grandparents, and their cousins headed east, to South Carolina, to the home of Maureen's mom and dad in Callawassie, near Hilton Head. Our time at this beach started 12 years ago to celebrate the 40th anniversary of Henry and Ann Diercxsens. Being at Ft. Morgan is a beautiful tradition, and this week was another one of those firsts that my son, Taylor, wrote about a few months ago on Maureen's birthday at the end of April.
This was the first time that all of us were together at the beach, without Maureen, the first time we were together as her family since last October 25, 2014 at her celebration of life. As I wrote before heading to the beach, July 14 was the 25th anniversary of my marriage to Maureen. July 6 was the 52nd anniversary for her mom and dad. As the week unfolded, it is clear why so much love washes over this whole family. Henry and Ann, Bon Papa and Bonne Maman are two truly amazing individuals and an unbelievable couple. They are like two big kids, and they are so in love with each other. Bon Papa shared that love at the dinner table on Sunday night, after we all enjoyed our first day at the beach, all 16 of us, all around the same table. As Bonne Maman would say, for as wonderful as the house we rent is, perhaps it is this big table around which we all can sit that makes this house our home away from home.
At this table, Bon Papa gave a prayer, a small speech, not unlike the one he shared at the reception for Maureen and my wedding 25 years ago. He eloquently and beautifully acknowledged what we were all thinking, what we were all feeling. We obviously all shed a tear around the table, but in that moment, as I sat across from Bon Papa, from Henry, tears flowing from my face, tears flowing from his, I felt a connection I never fully understand until that moment. We both loved his little girl, his Maureen, more than any words can describe. (With daughters of my own now, I understand what it means to love your little girl, Bon Papa.) For 25 years, he showered his love over his little girl, his Maureen, as only a father can. On July 14, 1990, he walked his little girl, my bride, up the aisle at St. Matthew's Episcopal Church, to hand his daughter's hand to mine in marriage. I was honored by the chance to carry his torch, to love his little girl for the next 25, to join my love with his.
Heading into this week at the beach, I thought I was going to be writing about Maureen and my honeymoon to Denmark and Norway, that immediately followed our wedding in Evanston, Illinois. However, as I've discovered frequently with my writing, what I plan and what I actually write are not always the same thing. Although I think it is because I stay open to the events around me, it is more likely simply Maureen and God making things so completely obvious that my fingers can do on the keyboard what they are both telling me in my heart. This was one of those weeks. Bon Papa opened the week at the table with his words, and on Tuesday, July 21, the 9th powdered donut day since Maureen's passing, I followed suit. We both laughed that neither one of us is afraid to talk!
However, powdered donut day was not celebrated at the big ol' table in the house. It was instead celebrated on the beach, under the big tent, city hall as we call it. It has to be a big tent, because there is so much love underneath it. For you see, this tent doesn't just house the Diercxsens but the Deakins. This beach tradition, this love, isn't just 12 years old. It is decades old. The Deakins and the Diercxsens are neighbors from Ridgewood, New Jersey. Their girls and the Diercxsens' girls have been friends for as long as they have known life. Susie Deakin was not only in Maureen's wedding but is the godmother of our youngest daughter. Barb Deakin, Suzanne and Dominique are not just friends but sisters. The Deakins and Diercxsens went to the Jersey Shore for years, just like we go to Ft. Morgan, Alabama now. Although the Deakins started joining us in Ft. Morgan just a few years ago, it feels like they have been part of the tradition since the beginning. In a sense, they have, because it is the love these two families share that make the beach so much fun.
The full symbolism of this moment didn't strike me until I reached this part of the story, today, as I type. It is this. Love is just too big to ever be trapped at one table, in one house, in one family. Love is huge, and as I said under the tent, there is always more than enough love to go around. The last time we had all shared a powdered donut was in Austin, after Maureen's "celebration of life." As I wrote in The Love of My Life | From Twelve Donuts to One, there was only one powdered donut at the shop that day, but we all shared that one donut together, in communion, because we all shared in the same love for Maureen. Last Tuesday, at the beach, we all had our own donut as I reflected on the love under that tent. I told each of the kids to look around the tent, to look at their own parents, to look at their grandparent(s), to look at their aunts and uncles, because in those faces they can see the power of love. If they looked closely, they could see almost 200 years of marriage represented under that tent. To know their lineage, to know where they come from, is to know that love. That is the legacy of Henry and Ann. That is the legacy of Jane Deakin. Just like the sand on the beach, there is always more than enough love to go around.
Later that evening, Taylor, Kyla and I walked down the beach to the waves below Windsong, the home in which we stay. With us, we carried a portion of Maureen's ashes. We reflected on the day; we reflected on our love for each other; we reflected on our love for Maureen; and we reflected on our walk from a year earlier. Then, we bowed our kids and said the Lord's prayer together and sprinkled ashes into the waves. Actually, it was Kyla who sprinkled them that evening, and the wind carried them on to my feet. To be honest, at the moment, I was a bit irritated. But only for a moment, because I quickly realized this was Maureen being blatantly obvious, so I wouldn't miss it. She was reminding me of our priest and his homily at her service in October. He told us to Love Where Your Feet Are. My sister-in-law, Suzanne, wrote beautifully about this at her own blog, Suzanne Jumps, in a post of the same name. I just read it again now; it is awesome! As the ashes landed on my feet, I suddenly knew. Actually, to be more accurate, I understood. Love where my feet are.
Before driving away from the beach yesterday morning, I took one last walk down the beach, listening to some tunes, thinking about love, thinking about Maureen. My eyes were first drawn to the sand by the sight of two footprints, one small and one large. I realized as I looked at them that a small child was walking with someone older, sharing a moment, sharing their love. I don't know who they were, but that was the point. Love is everywhere. The steps closest to me were still fresh, but the ones further away, were already being smoothed by the action of the waves. That sight immediately tugged at me, and I knelt down to capture a picture of this… a picture of where feet had been. As I opened my iPhone camera, I then saw my shadow next to these footsteps and felt all the pieces coming together. Just like our shadows, where our feet are, matters. Just because the waves wash away the footprints in the sand does not mean you haven't walked along the shores of life. Even though the imprints of Maureen's footsteps may smooth as time passes, her love won't. She has left her mark on more hearts than we may ever know. Because just like the powdered donuts under the tent, there is always more than enough love to go around, just like the sand.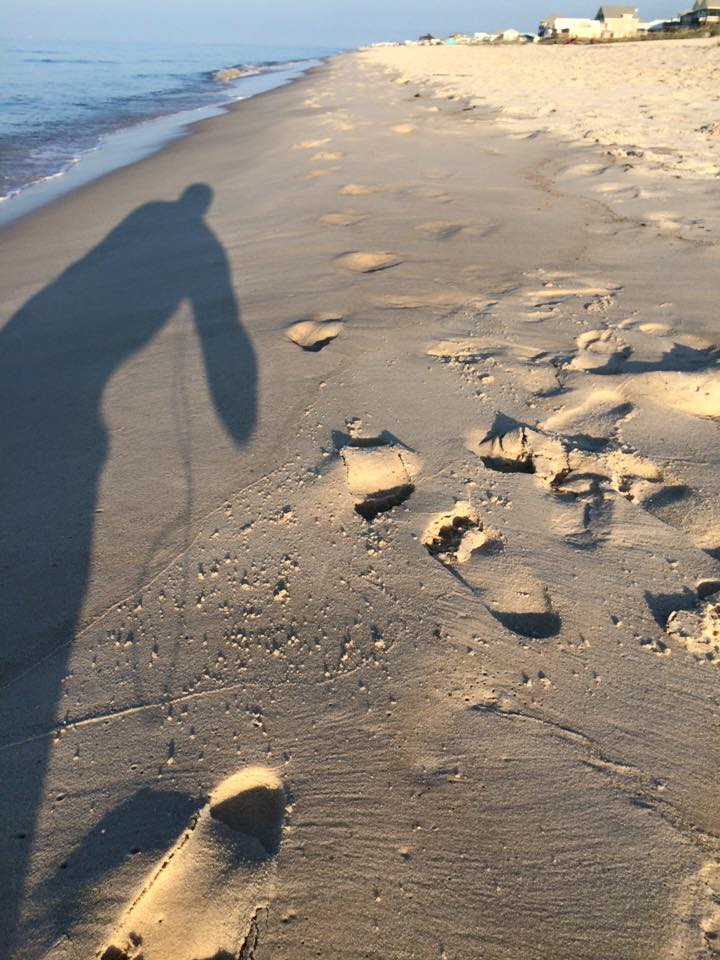 p.s. No post on footprints would be complete without my favorite poem…
One night I had a dream… I dreamed I was walking along the beach with the Lord, and Across the sky flashed scenes from my life. For each scene I noticed two sets of footprints in the sand; One belonged to me, and the other to the Lord. When the last scene of my life flashed before us, I looked back at the footprints in the sand. I noticed that many times along the path of my life, There was only one set of footprints.
I also noticed that it happened at the very lowest and saddest times in my life. This really bothered me, and I questioned the Lord about it. "Lord, you said that once I decided to follow you, You would walk with me all the way; But I have noticed that during the most troublesome times in my life, There is only one set of footprints. I don't understand why in times when I needed you the most, you should leave me.
The Lord replied, "My precious, precious child. I love you, and I would never, never leave you during your times of trial and suffering. When you saw only one set of footprints, It was then that I carried you.